New impulses through Interim Sales Managers: Resulting instead of Consulting

How can a new business start be made in times of digitalisation? Interim sales managers initiate new business models in the digital change and lead sales teams to old strengths and new successes. This is becoming increasingly important, especially for medium-sized companies.
Compact
Customers inform themselves about offers on the Internet and make their purchasing decisions on the Internet.
If you want to remain competitive in times of digitalization, you have to realign your business models and processes. Nowadays, the sales department intervenes later in the purchase decision, must answer questions faster and lead the customer quickly to the purchase decision.
An interim sales manager can structure the necessary processes and implement them faster.
This is one of my professional articles. Published in the journal Sales Excellence.
All to zero
Whether human, environment or society: technologies such as Big Data, Cloud Computing or Machine Learning change everything and force companies to rethink their business models. According to Switzerland Global Enterprise, only 8% of medium-sized companies believe that their business models will continue to work in the coming years in the same way as they do today. The problem? While the market is changing rapidly, sales are already lagging behind. Providers, prices and services are becoming increasingly transparent, customer demands are rising and customer loyalty is declining. Sales needs new ideas, fresh thinking, more agility, even more customer orientation – but many medium-sized companies are overstrained. Resources are scarce, the challenges of the new reality too great.
"Providers, prices and services are becoming increasingly transparent, customer demands are rising and customer loyalty is declining."
---
Welcome to Amazonia
The new reality is called above all "Amazonia". Sales are shifting to standardised trading platforms and heavyweights such as Amazon, Alibaba, Mercateo or "Wer liefert was?" are also devouring steadily growing market shares in business customer sales. This means that markets and sales organisations can change completely in a very short time – and those who want to remain competitive have to adapt. Medium-sized companies must also offer their customers simple and stable purchasing processes (one-click purchase). But this is not the only challenge in Amazonia:
10 Challenges for SME's
All information sources in one content management system
Simple and stable purchasing processes (one-click purchase)
Faster processes and better sales cycles
Better informed and impatient customers
Generation Y as strongest growing group
Difficult differentiation from competitors
Synchronization of sales & marketing
Sales is needed only in the last third of the purchase decision
From "guided selling" to VR-based configurators
New rules and a more agile sales culture
---
Accelerated processes
Because digitalisation is changing the market and sales at a rapid pace, SMEs need to accelerate their processes and optimise sales cycles. Especially in the B2B sector – where sales processes often extend over 6 to 12 months – simplified sales processes are indispensable. This can be achieved, for example, by checking performance requirements immediately and communicating them directly to decision makers. And by integrating digital tools such as augmented reality, landing pages, product sheets or product configurators.
New information gathering
Knowledge transfer is shifting to the Internet and customers are better informed than ever before. Consumers no longer listen, but do research on the Internet before they first contact with the company. Marketing has to make sure that products and services are visible to the right target group – for example, through high search engine rankings – and design the content found in such a way that it arouses the customer's interest.
More transparency
Thanks to the Internet, companies, offers and information can be compared at any time. Many companies are therefore threatened with commodification: it is becoming increasingly difficult to differentiate themselves from competitors with products or services – in Amazonia this is only possible through digital services and the customer experience. A well designed integration of website and services has to convert purchasing and the brand into an experience. Personalized product suggestions, simple user interfaces and uncomplicated communication possibilities are the foundation for a good customer experience.
More teamwork
Because the sales cycle begins earlier, companies need to synchronize marketing and sales. While many companies have editorial content managed by marketing and sales by sales, interdisciplinary teamwork is now in demand. Only a perfect interaction of marketing and sales can ensure that the customer is picked up in the best possible way and the sales process is simplified! The user finds relevant information and can immediately proceed to purchase.
New role
70% of the purchasing process in B2B business is already completed before buyers contact a sales representative for the first time. Because the customer journey and the sales funnel are shortened, the customer only needs a personal exchange with companies in the last third of the purchasing process. This is why the role of the salesperson is changing to that of a specialist consultant – consumers only turn to the sales department for special situations and complicated questions and expect quick answers.
New rules 
Unconditional customer loyalty no longer exists. Even regular customers are constantly informing themselves about alternatives, looking for experience reports and are gone as soon as a better offer comes along. Small and medium-sized businesses not only need new approaches, processes and technologies to win customers – but also to retain them in the long term.
"Medium-sized businesses not only need new approaches, processes and technologies to win customers – but also to retain them in the long term."
---
Driven by Generation Y with Generation Z in view
The biggest growth driver behind these developments is Generation Y. Those who optimize their processes and realign marketing and sales should concentrate on the generation between the years of birth 1981 to 1999. Only those who make it onto the purchasing "shortlist" are found: all sources of information must be actively managed via a content management system – from company blogs to social media to offline sales material. This is also a challenge for German SMEs – especially with regard to Generation Z, the first true "digital natives".
The Interim Sales Manager as a source of inspiration
The challenges of digitization are difficult for many medium-sized companies to master. This is where the Interim Sales Manager steps in and provides the necessary impetus for the marketing and sales relaunch.
He defines clear and high level goals for all departments (in line with market requirements),
creates new and customer-oriented structures (lean processes, high added value, high service level),
establishes new rules and guidelines (sales manual, "Key Performance Indicators") and
defines processes (clear interfaces for all departments).
---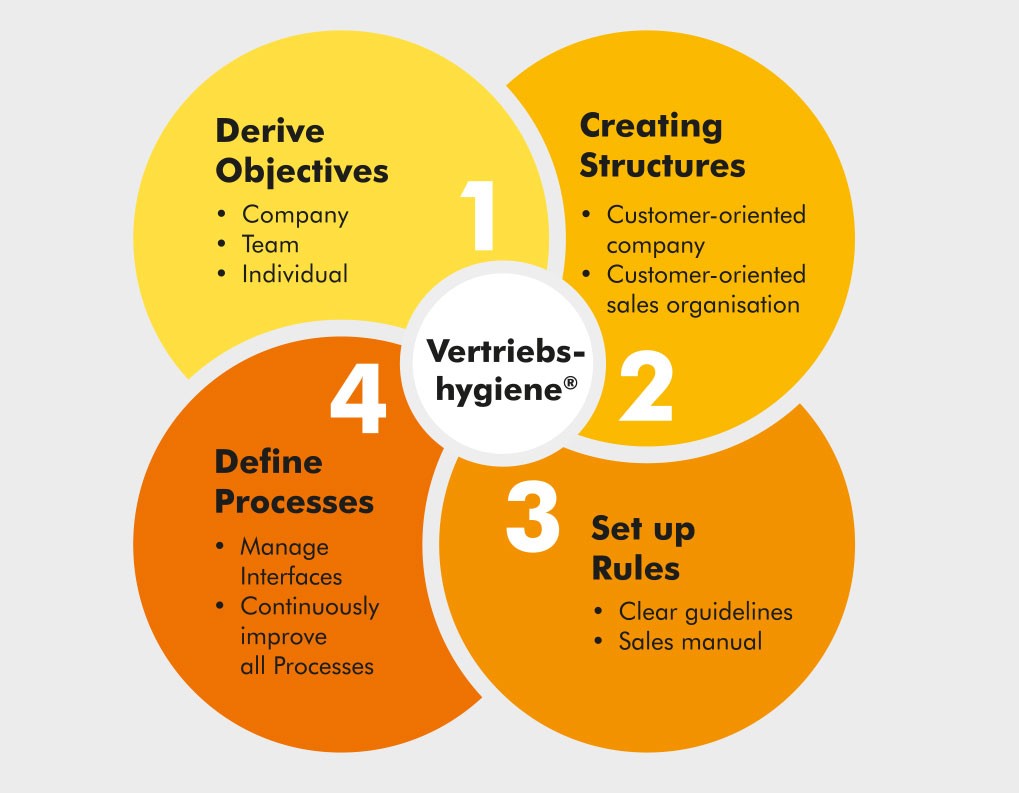 ---
This is what distinguishes an Interim Sales Manager from a classic consultant. It is not about consulting, but about results. Fast results! A qualified Interim Sales Manager develops new approaches, supports employees and gets sales going.
"A qualified Interim Sales Manager develops new approaches, supports employees and gets sales going."
---
In addition to the interim sales manager's knowledge of the industry, trust is particularly important – after all, a "temporary manager" gains an insight into internal processes. If an Interim Manager then also fits in with the sales team, nothing more stands in the way of success.
---
Source: Sales Excellence, Wiesbaden – Ausgabe 7-8 / 2019
---
Vertriebshygiene is a registered trademark
I SUPPORT YOU ON THE WAY TO YOUR SUCCESS
I am a strategist, an innovator, an unconventional thinker, a mover and shaker and therefore I do the right things sooner and better.
And with pleasure also for you.
Together we can discover new market opportunities, steer product branding into the right direction, understand your customers better – and stand out from the competition with tailor-made products for your target group. All this leads to more customer satisfaction, greater customer lifetime value and more sales potential.
Can you afford not to go for it?